The scene fades in from black with Sarah Foster standing backstage before a large poster of Adora Punk and Kyra holding up the Barbarians Championships. She is wearing a black neck protector which makes her look rather uncomfortable and annoyed.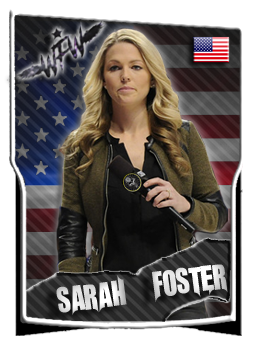 Sarah Foster: Ladies and gentlemen, please welcome my guests at this time. Adora Punk and Kyra the Barbarians Champions!
Kyra steps into the scene first holding her championship over her right shoulder as she claps her hands together making a beat while spitting out random sound effects for a rap, that leaves Sarah Foster looking on quite confused. Adora Punk dances into the scene wearing her championship around her waist and freestyles to the beat being made by Kyra.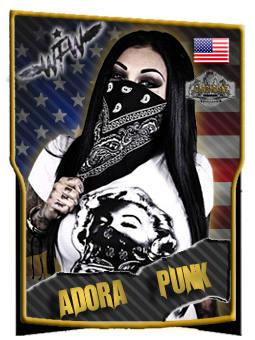 Adora Punk: Got to go hard just trying to be "The Best"
But the last person to use that was just a dumb pest.
Going into Resolution we were part of team Rowan.
But by the end of that show he was as useless as some dumb Samoan.
The 8-5-6 represents with Adora Punk,
And at Resolution the career of Ty Gunningz Sunk.
Now let me introduce you all to the wonder who hails from Turkey!
Adora Punk turns and gestures to Kyra who continues creating a beat for her tag team partner.
Adora Punk: But everything said about her by our commentators is just Quirky!
Now that we got the gold that means just one thing!
Kyra suddenly stops making the beat and chimes in.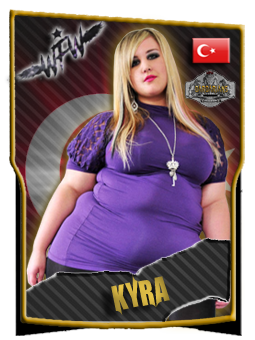 Kyra: That we're going to come out here and sing!?
Adora Punk makes a fist and throws it towards Kyra as if she were annoyed by the answer.
Adora Punk: You out of your mind!? That means we got the bling!
We could go on and on to keep up the party,
but one of us might get a little.. farty...
But! We need a tag team to come and get us!
And I got one in mind so it's time to discuss!
You got these fools with the last name of Cage!
So it's time to rampage, as we engage, them backstage,
until we're forced by the police to disengage!
Kyra resumes making a beat as she dances out of the scene with Adora Punk, who leads the way while continuing to freestyle.
Adora Punk: Now Sarah, don't you worry about Sohee Romano,
That dumbass -censored-'s going to get beat and thrown into the grotto!
I suggest you don't follow us and cut this unless you want to be next,
but then I'd be afraid that you'd get some dumb complex!
Sarah Foster slowly turns to the camera now alone with a face that is best described as ... fades to black.
High Commander




Posts

: 10


Join date

: 2018-05-10



Similar topics
---
Permissions in this forum:
You
cannot
reply to topics in this forum