The scene fades in from black inside the office of Casey Grant with the camera panning around slowly to show him sitting on his office chair leaning back as far as he can with his legs up on the edge of his desk. He is holding his cell phone firmly in his right hand and is talking into it sounding slightly annoyed.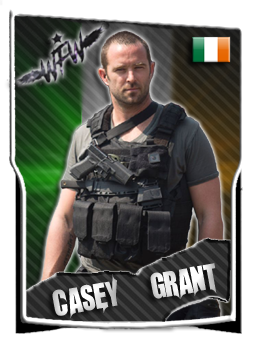 Casey Grant: You think I don't know that!? Trust me when I say I'm going to make some cuts... Oh for the love of... Yes I got everything under control! I'm quite aware of the mess this has caused... Feel free not to!
Casey Grant pulls the phone away from his face and taps the screen to abruptly end the call. He then slams the phone down on his desk and looks up to the door as it is flung open making a loud bang! The door flings open and slams into a coat rack that is behind the door and slowly begins to creak closed as Adora Punk steps into Casey Grant's office, moving with her usual gangster like strut. While bobbing her head from right to left she spats out her own quick freestyle as she approaches Casey Grant's desk without shutting the door behind her.
Adora Punk: And the girl who survived her battle with a tank! Is here to collect and make some bank!
Adora Punk stops before the desk of Casey Grant and places both of her hands down on it as she leans forward looking into the eyes of Casey Grant as she continues on.
Adora Punk: Now what does the big bad grant say for some well done pranks? I believe I should be hearing some big fat thanks! And if you don't pay up... Well... I'll have to pull out my shiny new toy and SHANK SHANK SHANK!!!
Casey Grant quickly stands up causing his office chair to flip behind him creating a loud crash as it knocks the bottom shelf off his bookshelf causing all the books to fall over in addition.
Casey Grant: ENOUGH!!! A job well done!? IS THAT WHAT YOU WANT TO CALL THIS MESS!!?
Casey Grant turns to the right gesturing for Adora Punk to do the same as he picks up a small grey remote off his desk and hits a button on it causing the monitor to turn on. Adora Punk can see a repeat of the scene where Rowan Grant crashes in the parking garage. Casey Grant hits the pause button as the scene is focused on Adora Punk in the background holding up the drill she used to remove the lugnuts from Rowan Grant's front passenger tire. He then turns back to Adora Punk quite red in the face.
Casey Grant: Rowan Grant is still here and is now actually motivated to beat me due to YOUR FAILURE!!! No... There will be no payment. And this little alliance of ours IS OVER!!! You screwed the pooch bad this time Adora Punk! And that's all you'll be to me, a screw up! Now get out of my office and be thankful that I'm not firing you!
Adora Punk slowly backs up towards the open doorway behind as she brings up her right arm and points with her index finger at Casey Grant.
Adora Punk: You might think you're tough now for going back on our deal. But remember this when I tell you, you're not made of steel.
Adora Punk slams the door closed as she backs out of the office with the scene fading to black as the camera zooms in on the door.
Last edited by Adora Punk on Thu Jul 19, 2018 4:03 pm; edited 1 time in total
High Commander




Posts

: 10


Join date

: 2018-05-10



OOC: Part 2 for towards the end of the show.

The scene fades in from black with Adora Punk walking through the corridor carrying her backpack with a single strap over her right shoulder. She is mumbling to herself which isn't picked up by the camera as her face bandanna conceals what she is saying. The backstage staff all jump out of her way as she rounds a corner looking like she might attack anyone who gets too close to her.

As Adora Punk nears the door to Rowan Grant's office on her way out of the arena she stops and is caught by surprise as the door is open and Rowan Grant extends his right arm and motions for her to come into his office. Rowan Grant moves into his office after Adora Punk and closes the door behind him with the scene fading to black.
High Commander




Posts

: 10


Join date

: 2018-05-10



---
Permissions in this forum:
You
cannot
reply to topics in this forum