The camera is going in the backstage area, where we can see Sarah Foster with a mic in hand waiting on the interview set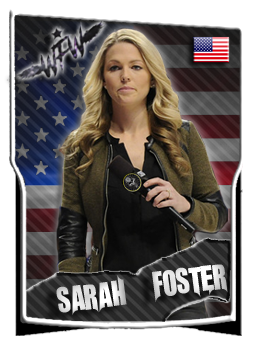 Sarah Foster: Where are those baffons? I knew we shouldn't thrust guys wearing animal costumes
The camera zooms out a little bit, the crowd cheer as they see both Cage Brothers are wearing detective clothes, with hats and pipes standing behind Sarah
Squirrel Cage: AHEM, Madam, we are right behind you.
Sarah Foster gets a little flustered, but acts quickly and starts the interview.
Sarah Foster: Beaver and Squirrel, you guys are wearing those clothes, why?Squirrel Cage: It's elementary my dear Shera...Sarah Foster: It's Sarah.Squirrel Cage: That's what I said, Shera.
Sarah rolls her eyes
Squirrel Cage: We are investigating your brother in law attempted murder, we have a list of suspects. Do you think you can help us with that?Sarah Foster: What? It's obviously Adora Punk's doing, everybody knows...
Beaver and Squirrel are clearly not convinced.
Squirrel: Hey madam, it's not polite to point fingers at people like that, you should leave it to the professionals to find out who carried out this atrocious and nefarious deed.Sarah Foster: What? Even Rowan knows it was Adora Punk, he might even right now be blackmailing her, I think...Beaver Cage: IT DOESN'T MATTER WHAT YOU THINK.
The crowd cheers as Sarah Foster jumps at the sudden copyright infringement from Beaver
Beaver Cage: Adora Punk might be innocent, we cannot afford to punish someone is not guilty, leave it to us Sarah, we know what we're doing. Rowan is a swell guy, he and Casey both gave us a chance to shine and we think we did our best, might not be what we wanted, but we gave the crowd a showSarah Foster: Ok then... Tell me, you guys have one loss against Yseris and Rhanogar and one win against someone that Rowan put together, aren't you ashamed that your victory might've come on a fluke? You guys come here, dressed as idiots, do you think our show is some kind of circus? Get out of my face.
Sarah Foster leaves, clearly pissed off.Beaver and Squirrel looks confused.
Squirrel Cage: Hey, what happened? Was it something we said? We're sorry, Shera, come back.
Beaver and Squirrel leave as the camera fades to black
Last edited by Beaver Cage on Fri Jul 20, 2018 9:38 pm; edited 1 time in total
High Commander




Posts

: 20


Join date

: 2018-05-19


Age

: 29


Location

: Brazil



Now we're at the mercy of Casey and Sarah. You can do whatever you want with us in this show, give us a reason to side with Rowan when it matters.

High Commander




Posts

: 20


Join date

: 2018-05-19


Age

: 29


Location

: Brazil



Similar topics
---
Permissions in this forum:
You
cannot
reply to topics in this forum