The scene fades in from black inside the office of Casey Grant. The camera pans around to show Casey Grant sitting at his desk looking intently into the screen of a sleek black laptop that seems to glisten from the overhead light. The door to the office slowly creaks open and Casey Grant looks up from the screen and motions with his right hand for his visitor to come inside.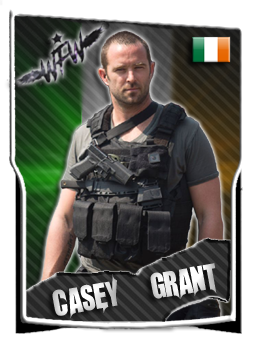 Casey Grant: Good you're just in time. Come in... And shut the door behind you, what do you think this is a barn?
The camera quickly pans around to show Adora Punk hastily turn back to shut the door behind her.
Adora Punk: Whoops... Sorry...
Adora Punk strides into the office like she were walking down the streets in the ghetto. She stops before Casey Grant's desk and sits down on one of the chairs before his desk. She then reaches forward towards Casey Grant, who does the same with their hands meeting about halfway over the desk. They share a firm handshake before each leans back in their seats.
Casey Grant: I'm glad you're here Adora Punk, because you have a particular... Skill set that I need right now. This contest with my brother Rowan is a complete waste of time. Now if some kind of "Accident" were to happen while I have a safe alibi... Well... That would make me the General Manager of War Force Wrestling... You're a smart girl and I hope you see where I'm going with this...
Adora Punk snickers to herself as she brings both of her arms before her to stretch them out. She locks her fingers together and pushes her hands out towards Casey Grant as she audibly cracks her knuckles as if warming up her joints.
Adora Punk: Finally someone can see my worth on this god forsaken earth! Now you should know I don't work for free, an if you try to screw me I'll squash you like a flea. But let's be honest about Rowan Grant... He don't wanna be here, his crap is scant! So I'll go play this prank, but you best be ready to thank. Now I won't give you all the facts, but just know that Adora Punk is all about the impacts!
Casey Grant holds his right hand up as he is looking to get a word in. Before he can say anything Adora Punk makes a fist with her right hand as she punches his hand, turns her fist sideways forcing Casey Grant to do the same. Then slams the top of his hand with her fist and then brings it up from below. She then turns around and walks away towards the door and rips it open in a hurry.
Casey Grant: Uhh... Adora... We sti--
Adora Punk slams the door behind her with the camera panning back towards Casey Grant who does a facepalm as he is now talking to himself.
Casey Grant: We still need to work out your pay...
Casey Grant shrugs to himself and picks up his coffee mug and takes a loud sip as the scene fades to black.
OOC: Part Two towards the end of the show or end of show
The scene fades in from black in the parking garage with Rowan Grant leaving the arena and heading for his car. In the background the viewers can see Adora Punk lurking about in the shadows hiding behind a large pillar and watching Rowan Grant as he moves up to his car and pulls his keys out of his pocket. He clicks a button on his keypad and unlocks the door and opens it to get inside his car. Rowan Grant then sits down in the drivers seat shutting the door behind him as he sticks the keys into the ignition and starts the car with a loud VROOM!

The camera moves slowly as it pans around the car to show the front passenger tire with all the tire's lug nuts sitting on the ground beside it. Rowan Grant shifts the car into reverse and slowly backs up out of his parking spot. The camera then pans and zooms in on Adora Punk in the background as she holds up an automatic drill an pulls the trigger on it causing it to spin and grind for a few moments.

In the background a loud screech can be heard, the camera pans back to show Rowan Grant's front passenger tire has rolled off with him losing control of the car! The car screeches and forces him to make a sharp right turn with the car slamming into a large eddie bower style pick up truck. Rowan Grant's air bag goes off as car parts and pieces now litter the area around the accident.

WFW's doctor and some trainers rush out of the arena into the parking garage with Rowan Grant stumbling out of his car holding the back of his neck. The scene fades to black with Rowan Grant yelling at everyone as they try to check on him.
Similar topics
---
Permissions in this forum:
You
cannot
reply to topics in this forum